Well today went well, though a bit more hectically than we planned due to a brain-fart on my part (but I'll get to that). We began well, Beth had the majority of things packed last night, so I just loaded them up this morning, and we were ready to head out by 8:45 AM.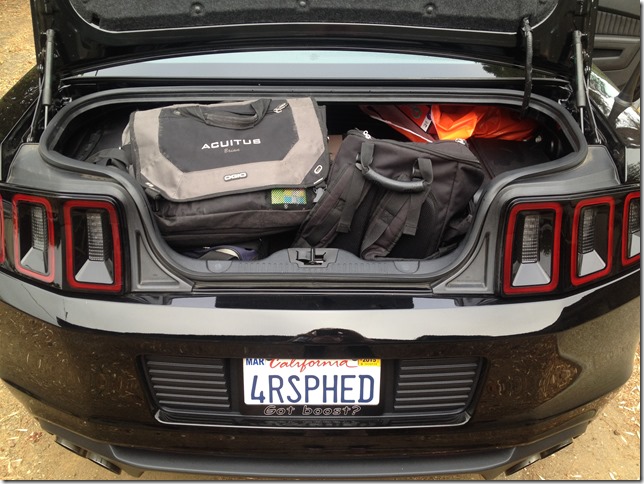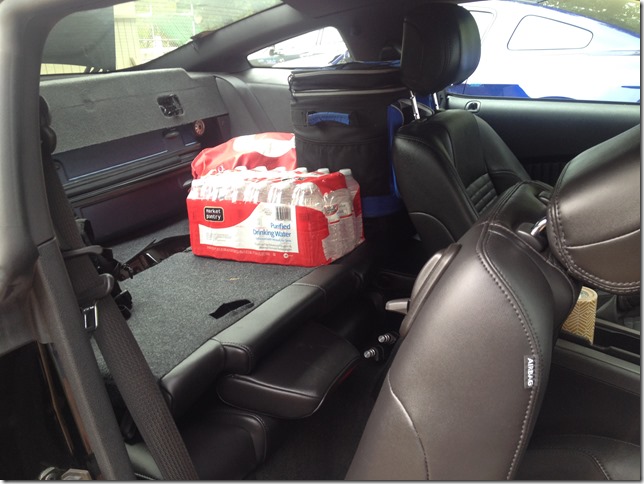 The suite of tools I'm using on the trip is pretty straight-forward. I have my iPhone running Waze (to help look out for the fuzz) and providing tunes, hardwired in to the car's USB port.
A Dell Venue 7 is on a Ram mount in the center, providing digital gauges, since I have a hard time reading the stock speedo (not that I pay it any attention). Also, I got spoiled with the HUD in the C5, so this is my way of rectifying the lack of a HUD in the GT500. The Dell also has a hidden hard-wired USB power so it stays charged.
Above the Dell is a Valentine1, which I have Blend-Mounted to the rear-view mirror and hardwired into the car.It's currently  set only to alert for Ka and Laser, which I've found eliminates 90+% of all false positives. It's also highly effective, at least in CA, because CHP exclusively uses those bands.
Finally, the stock GPS nav is in the center screen.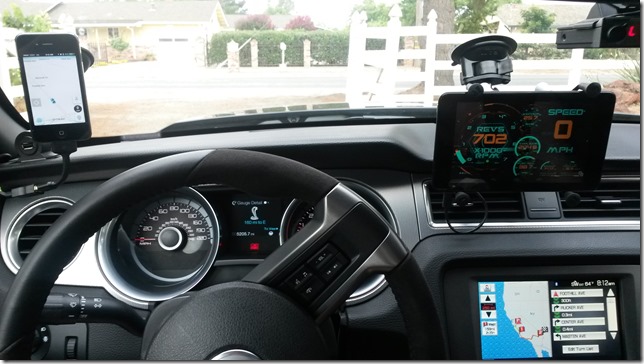 Like I said, we headed out at 8:45 AM, hit the bank, and then made our way to stop 1 on my roadtrip, which happens to be lunch at the best damn Gyro place I know of, Petra in San Louis Obispo.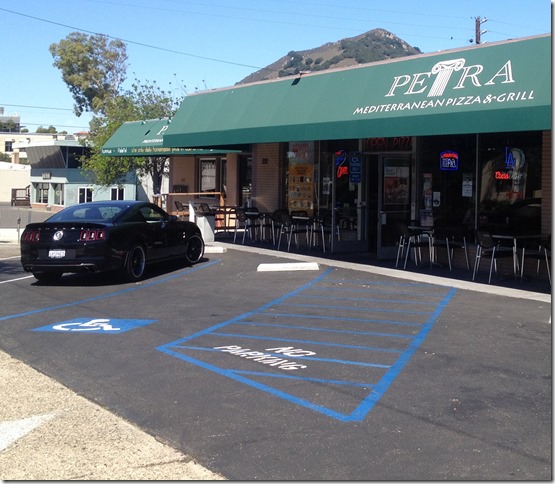 Here we had the beginning of our kickoff feast. Beth got a tri-tip shawarma plate, while I got two gyro plates.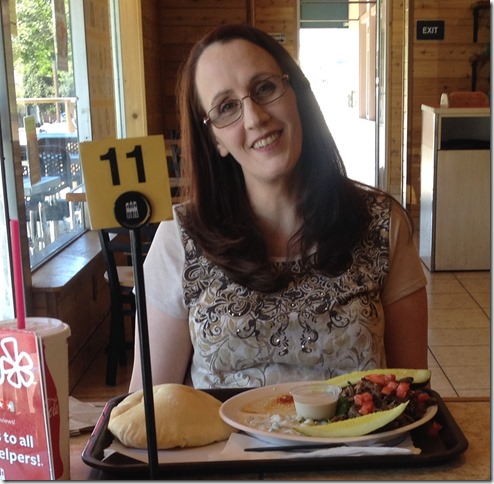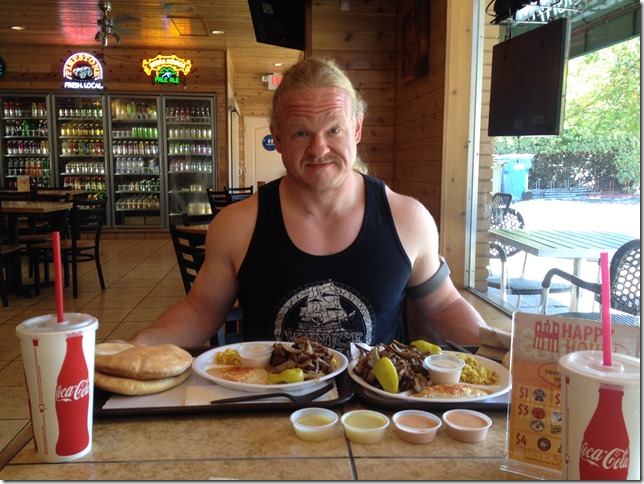 Now, claiming these are the best gyros in creation is a big boast, and there may actually be better plain gyros out there. But the thing that makes Petra's awesome is the sauces.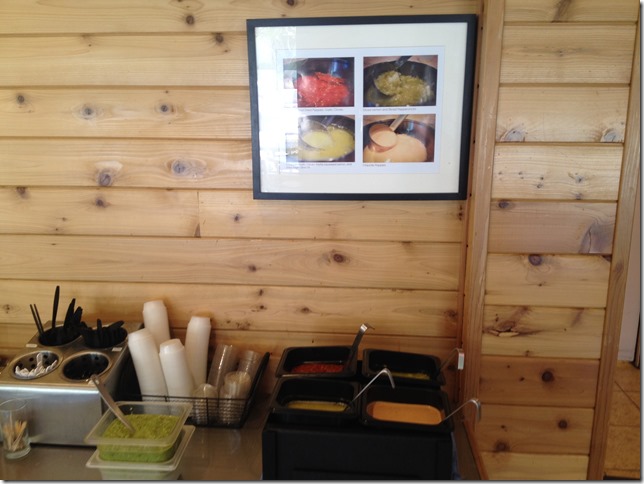 The sauces I'm using are Garlic/Lemon (the light yellow one) and Chipotle (the orange-ish one). Alone these sauces are very good. Combined, they are heavenly. Replace the yogurty-cucumber crap they give you with rice (a $1 upcharge), load the sauces, rice, hummus and meat into half a pita, and the result is exceptional.
After Petra, we hit stop #2, which is the SLO location of our favorite ice cream shop, Doc Burnstein's Ice Cream Lab.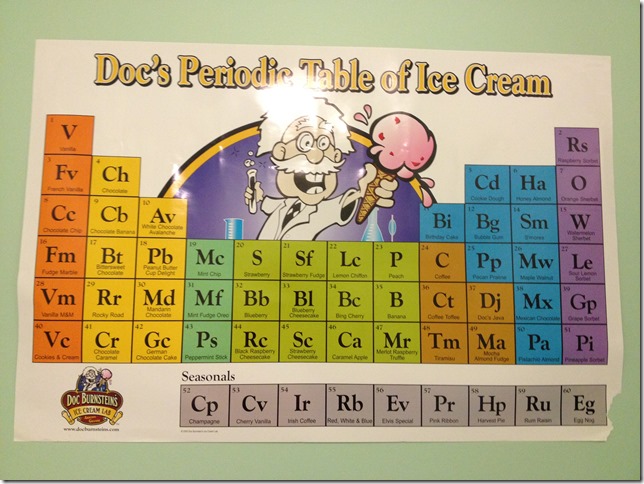 Unfortunately, they were out of brownies, so I couldn't get my usual (Brownie Delight, basically a brownie a la mode). Instead, I got a double scoop of Chocolate Caramel (which has bands of caramel  and little caramel-filled chocolates mixed in) on a freshly made waffle cone.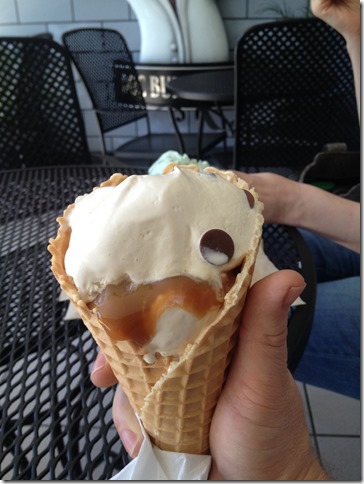 Beth got a double scoop of chocolate mint, which she said didn't live up to expectations.
Anyhow, after washing my hands for the fourth time in less than an hour (everything I ate today was messy), we headed out to try and stave off an impending diabetic coma with lots of driving.
This is where I had my brain-fart: I used the stock nav system in the GT500 instead of Waze to plot the course. My thinking was that my iPhone would either overheat or run out of juice before the end of the day (I was right), and that the stock GPS would probably do OK (I was wrong). Instead of taking us through Bakersfield and Barstow to get back to stop 4, the stupid MS-powered GPS system took us down 101 and straight through LA! So, fighting through stop and go traffic ended up costing us about two hours.
We did get back on track though, and other than missing the wind farm, hit all expected stops. Which brings us to stop number 4.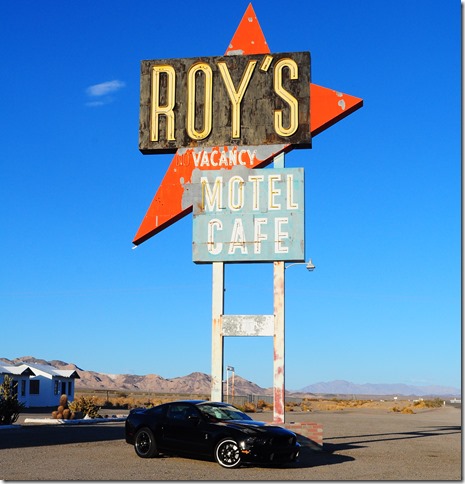 This is Roy's Motel/Café, a dilapidated, mostly abandoned historic Route 66 hotspot. The Café/Gas Station is still open, though they don't really cook anything in the Café anymore (just sell junk, basically).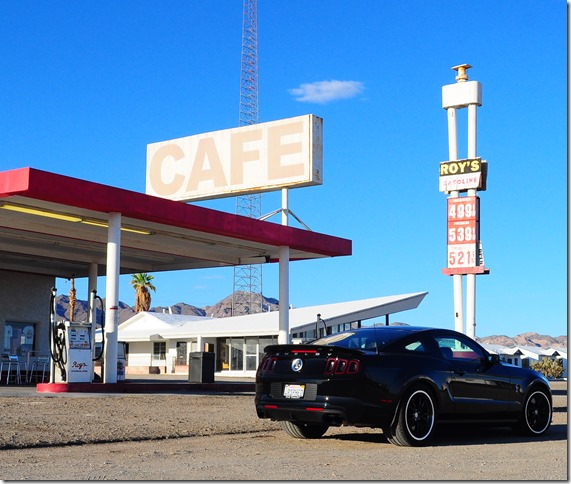 The guy we spoke to said the owner basically just keeps it around for tourists and the occasional movie shoot. The motel office is still in circa 1950's décor, though a bit dusty. Here's a couple of more shots of the place Beth got: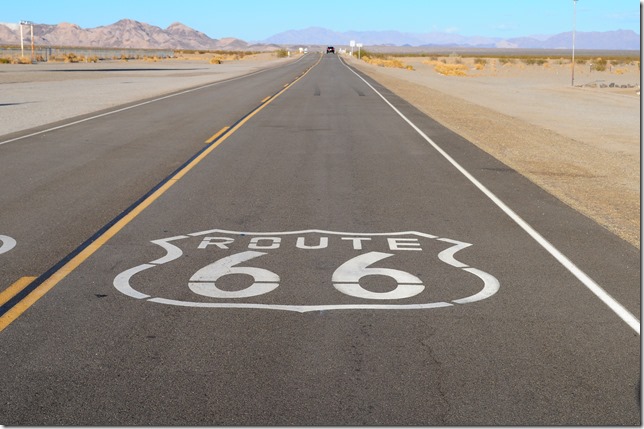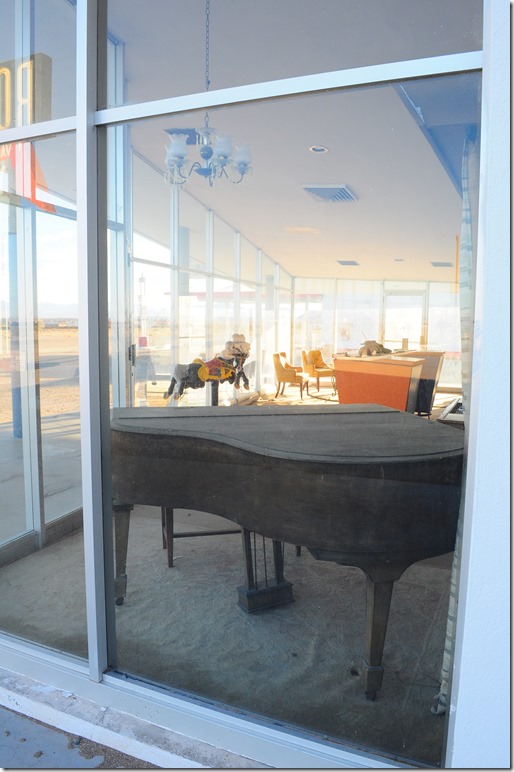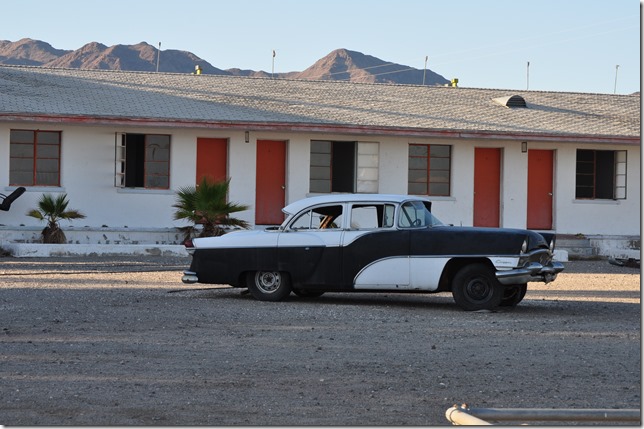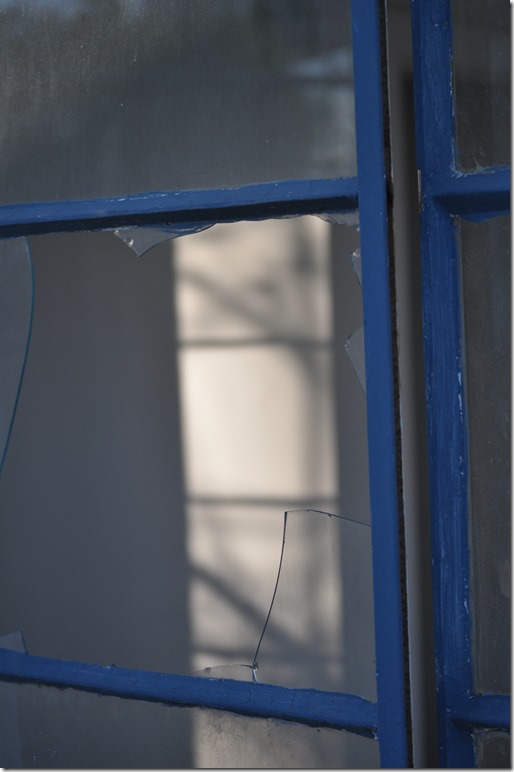 Unfortunately, it was getting late and I had to kind of rush Beth out. There was lots of other stuff to look at (the whole town is largely deserted; plus, it's in the Mojave), but it was pushing 7 PM and we were at least two hours from the nearest hotel.
We moved on, and ended up stopping for the night in Needles, Ca. We ate supper at a local joint with decent Yelp ratings, Juicy's River Café (which I initially mistook for a strip joint, for some reason…)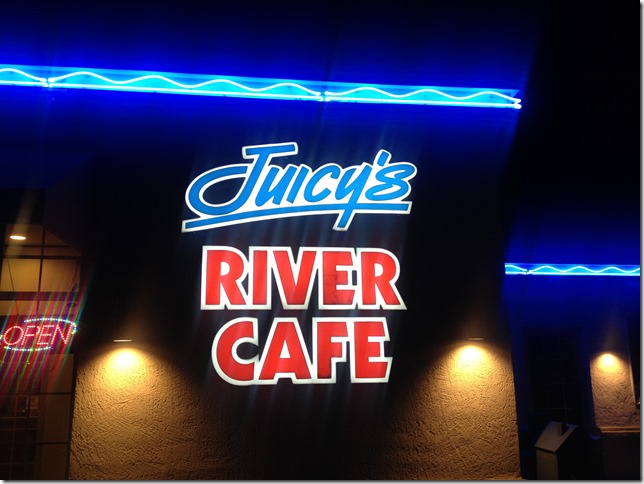 Beth had the meatloaf while I had something called a Fat Boy, which was basically a burger on Texas Toast with Monterey Jack cheese, bacon, jalapeños, and BBQ sauce.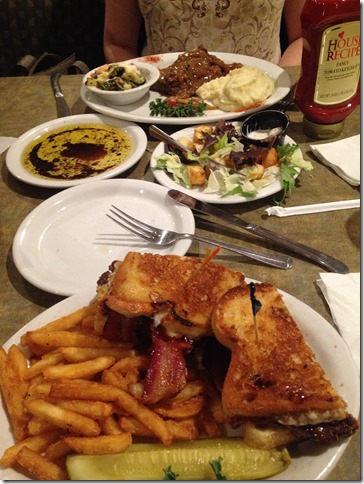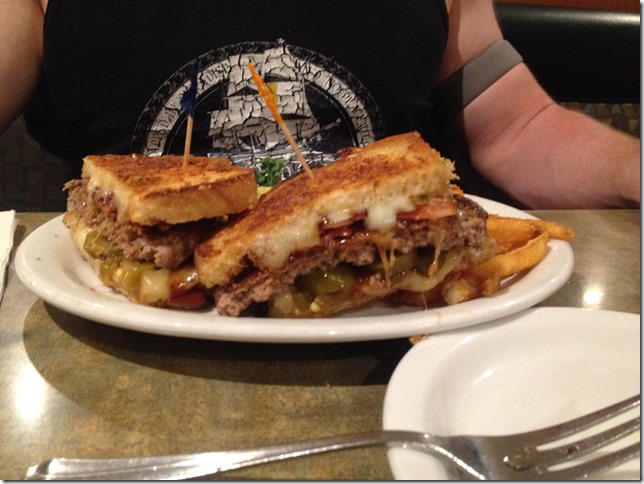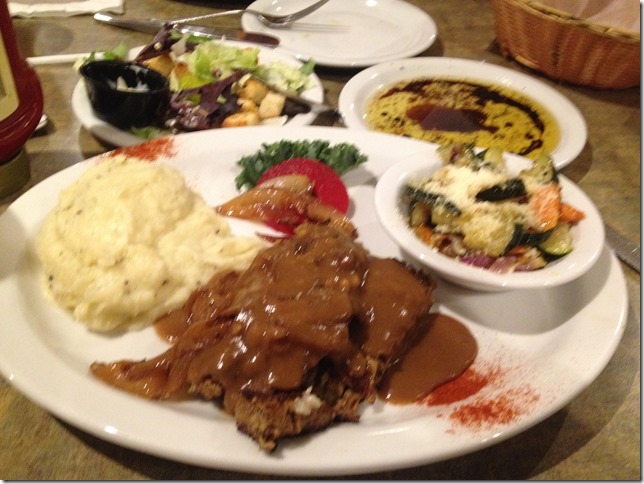 The dinner was decent, about what you expect from a small diner. Desert was also on par. I had a deep-dish apple pie a la mode, and Beth had about half of a Chocolate cake, also with Ice Cream.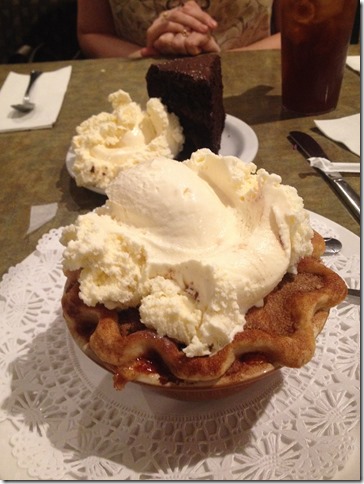 We then rented a pauper's room at America's Best Value Inn, and proceeded to cuss computers for the next few hours. Right now it's 12:30 AM, and I'm just posting this up. Tomorrow may be rough, but it should also be fun.