Today was the first day out on the trip back. After some debating we decided on the route I originally plotted for the return trip due to it being shorter, theoretically allowing us to stop and enjoy the sights a little more.
We left out a little after 9 AM and headed southwest to the Shadow of the Bear. Unfortunately we didn't get to actually see anything for a couple of reasons. First, it was pouring down rain when we get there, however that wouldn't have been a big deal if there was a place to park close to the viewing point. Unfortunately after a long drive out to the middle of nowhere you end up at a parking spot where you have to go on a nature hike to get to the viewing area. Since neither of us were really prepared for a long hike in pouring rain we simply chalked it up as a wasted morning, and went in search of lunch.
For lunch we decide to stop at Carolina Smokehouse. These guys claim to offer 'authentic NC BBQ', but to this assertion we both take offense. Since both of us are from NC, our idea of Carolina BBQ is eastern Carolina BBQ, which is a vinegar-based sauce. However, this place is what I normally consider more of a Texas BBQ, using a red, tomato-based sauce. If you eat the chopped pork alone, it's not bad, though Beth thought it was dry. However, once you put the sauce on it, it's more or less identical to Sonny's BBQ. Also the cobblers were kind of strange in that they were a bit mushy and had a weird consistency, but they tasted fine.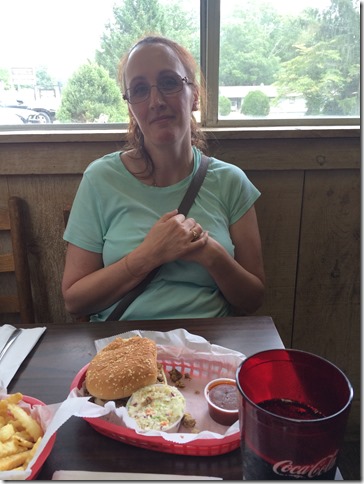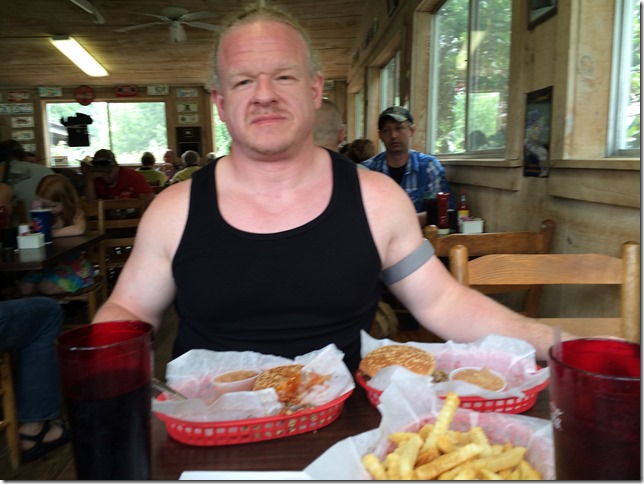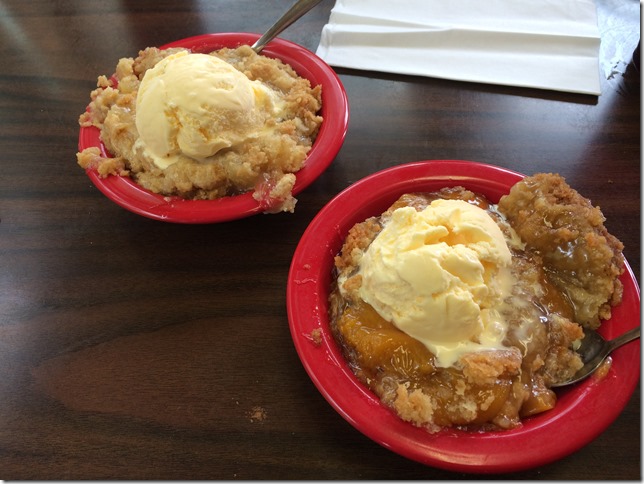 My suggestion, if you want to taste authentic Carolina BBQ, is to head into Albemarle NC and stop at Log Cabin BBQ. To Carolina Smokehouse's credit, though, they did serve Cheerwine, which is an authentic NC soft drink.
Once we finished eating, we headed out to tame the Tail of the Dragon, which is an iconic road on the North Carolina – Tennessee border. When we arrived at Deal's Gap, there were a couple of shops – one that caters to motorcycles, and one that caters to the automotive crowd. The one that caters to the auto crowd has a couple of big metal sculptures in front that we would have liked to have gotten some shots of the GT 500 in front of. Unfortunately the place was packed to the gills with ricers in 180 HP Hondas that tended to have at least 400 lbs. of useless crap like neons and fake roll bars tacked onto them. The place was actually so packed I almost couldn't get the GT500 turned around in the parking lot, so taking a pic of the car was out. I did finally manage to escape the parking and made a run down the tail.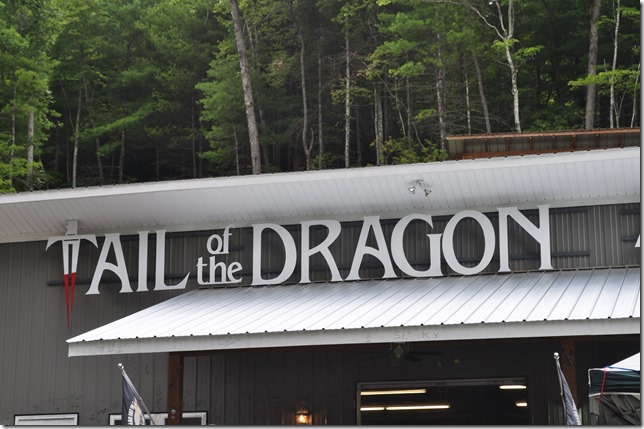 And before and after the run, Beth managed to get some good shots in.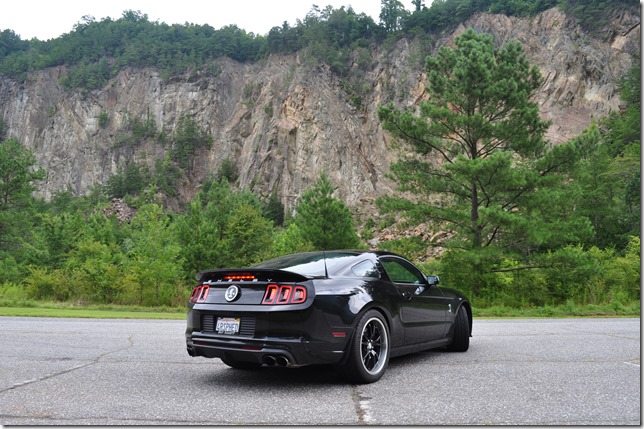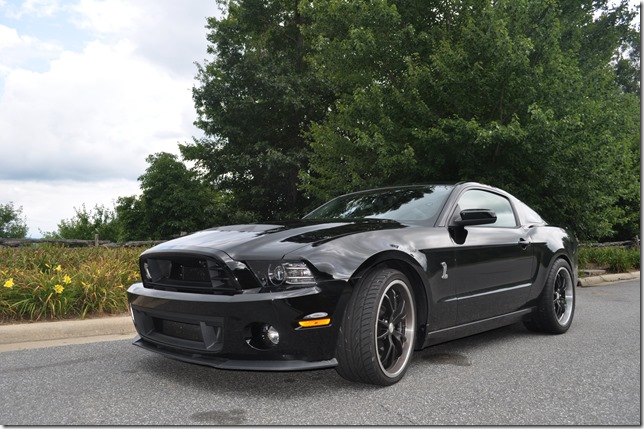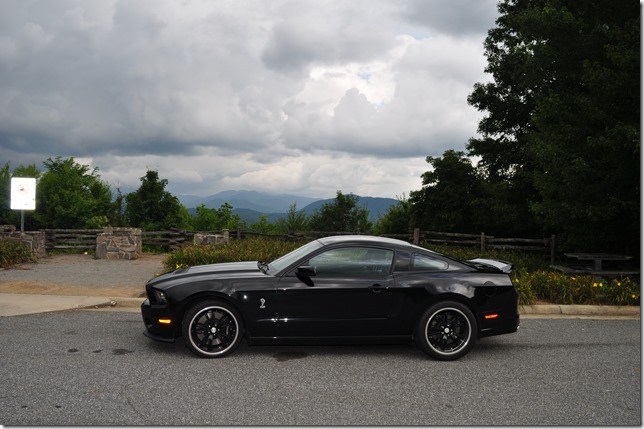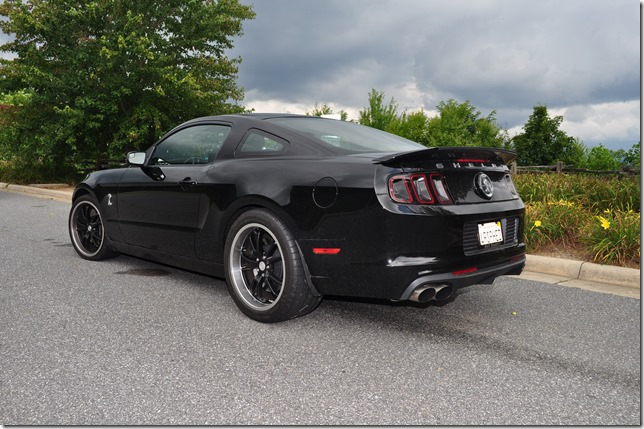 At first I wasn't very impressed, to be honest. I've run the GT500 down the PCH and Hecker Pass, both of which are twisty and a blast to drive as long as you don't have a lot of traffic. However, the tail is interesting in that it's built with numerous turn-outs so that slower traffic can pull out and let you pass, something that both the other roads are lacking. Once some of the slower drivers pulled off and let me pass, I was able to wind the GT500 up a little bit and generally had a blast.
Compared to the other two roadways, the dragon consists of a lot more low-speed curves with much more forgiving shoulders (most of which are paved out about half a lane-width), and an overall lower price of failure. For example, if you run off of most curves on the Dragon, you end up in some trees at 60-80 MPH. However, since many of the curves on PCH are higher speed and bordered by a cliff, losing it on PCH generally launches you into the Pacific.
In any event, our fun was cut short a little early as I ended up catching up to a bunch of Harleys that were going ridiculously slow and absolutely refused to get out of the way. However, this did allow us to stop at some scenic spots and Beth got some more pics.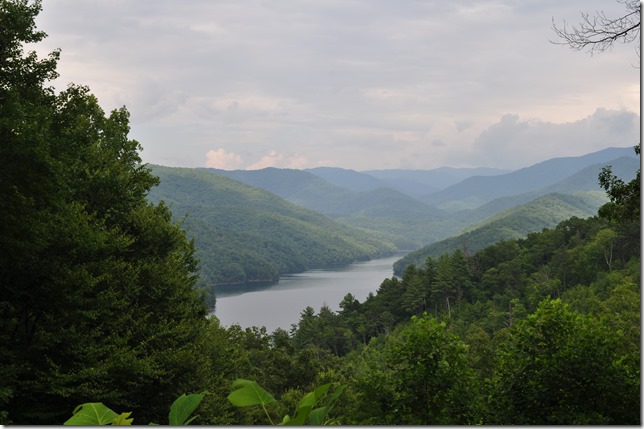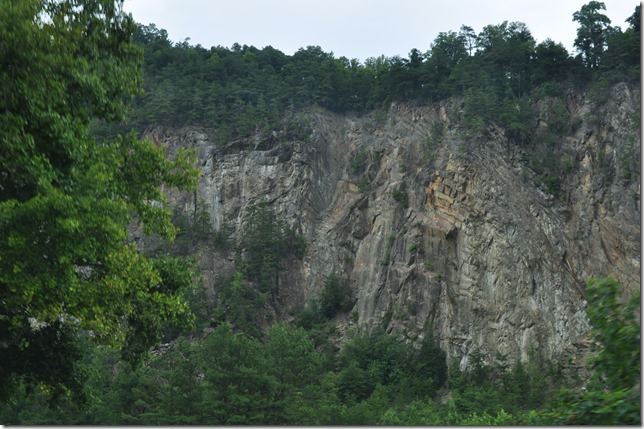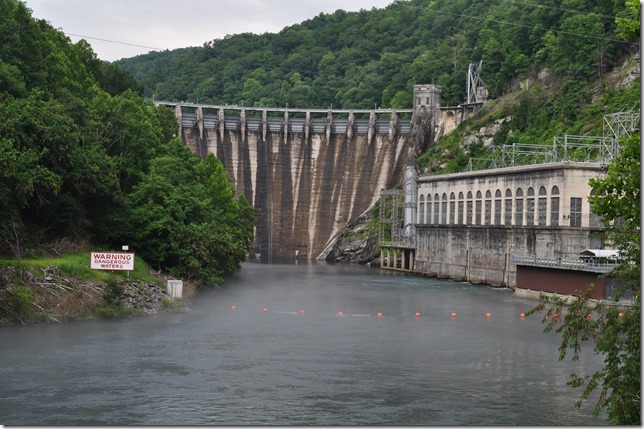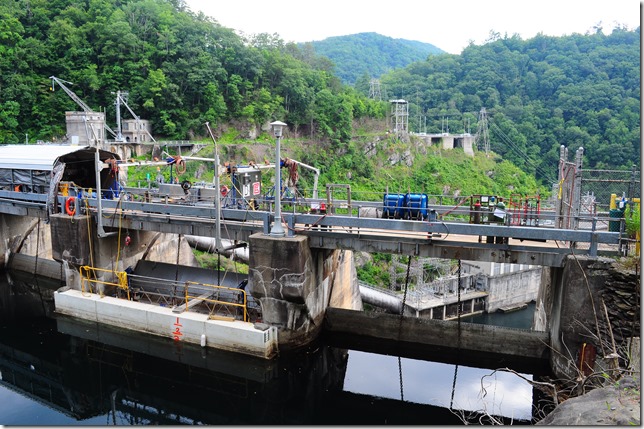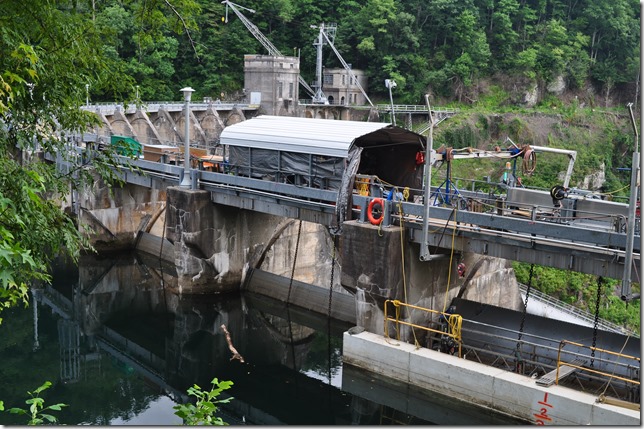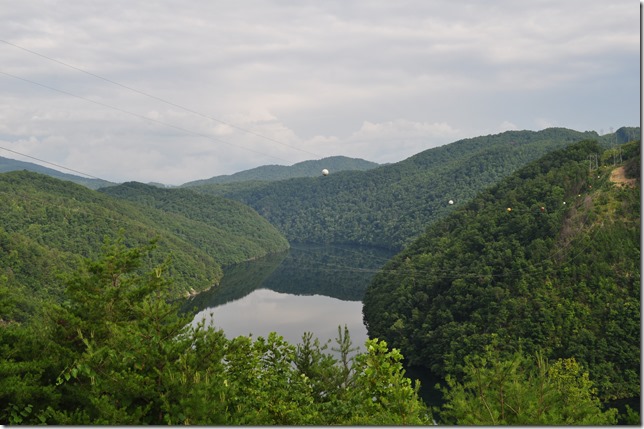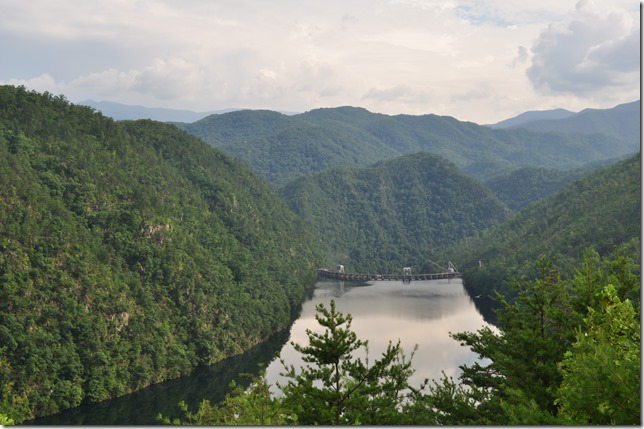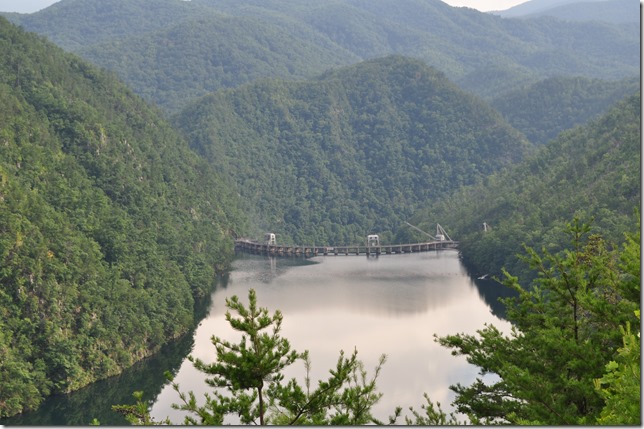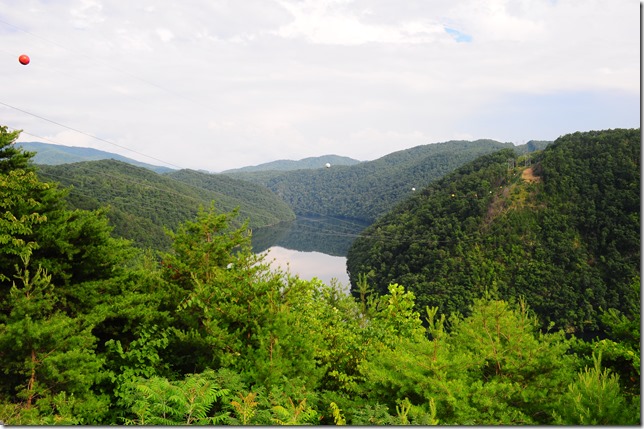 After the tail we went to go see the Lost Sea, which is a large cave structure in Sweetwater, TN. We got in on the last tour of the day and managed to snap a bunch of pictures while going through this immense cave system. It turns out that its been a lot of things over the years, including a saltpeter mine in the civil war and a bar in the 40's.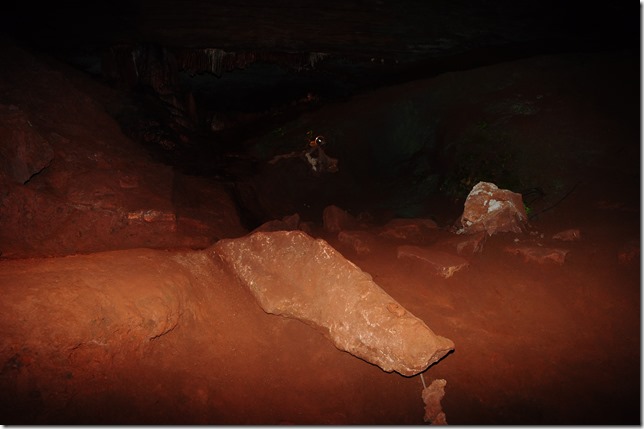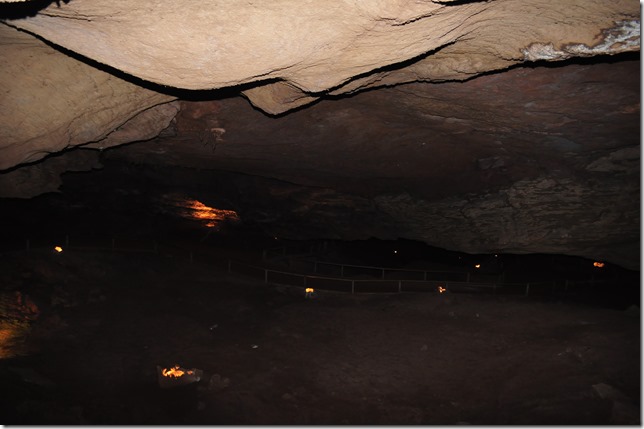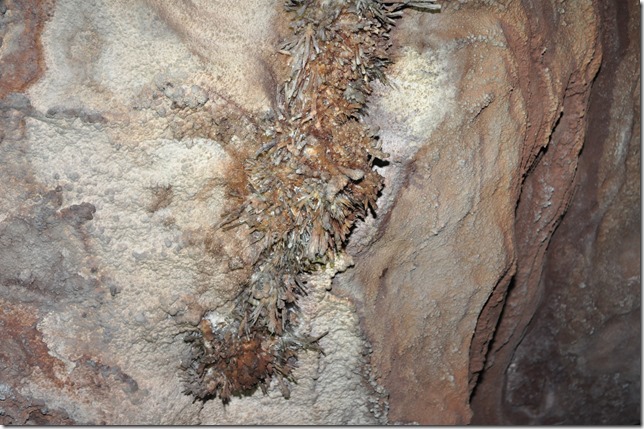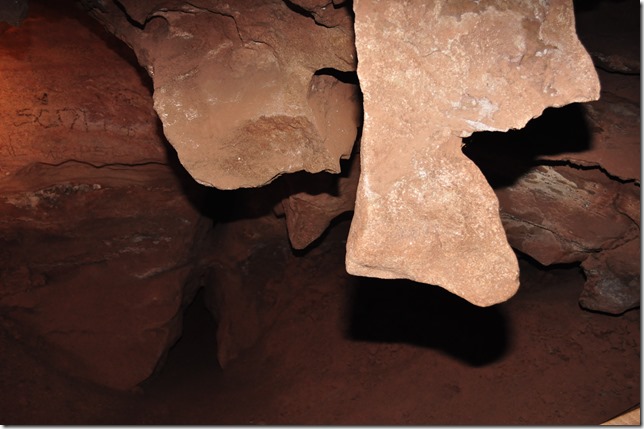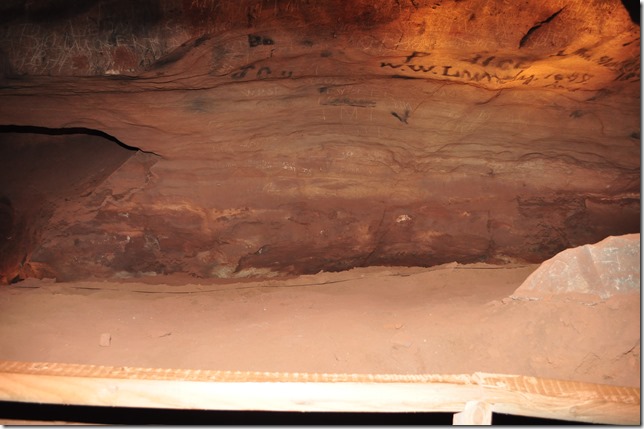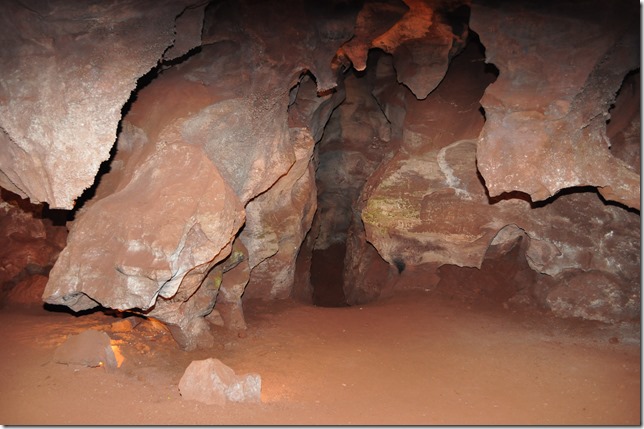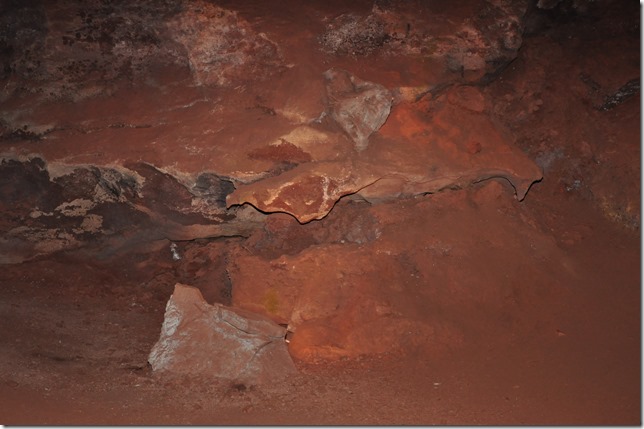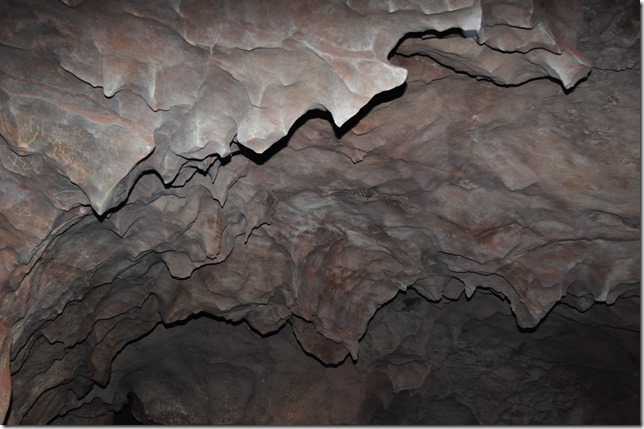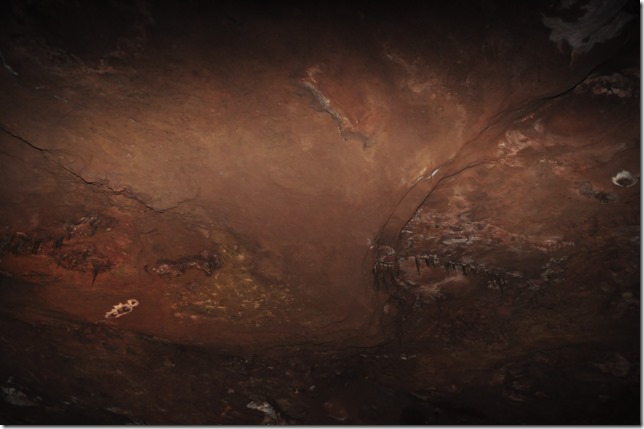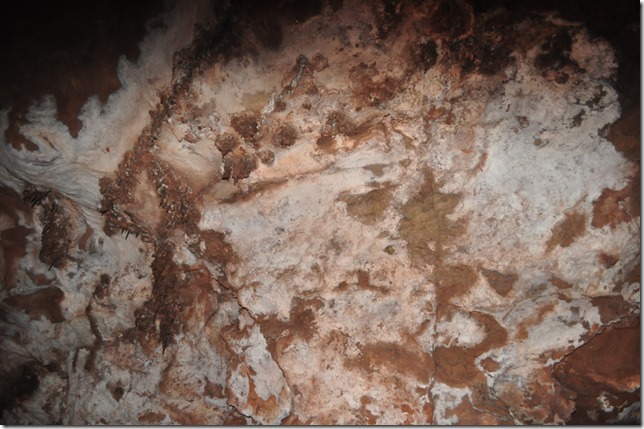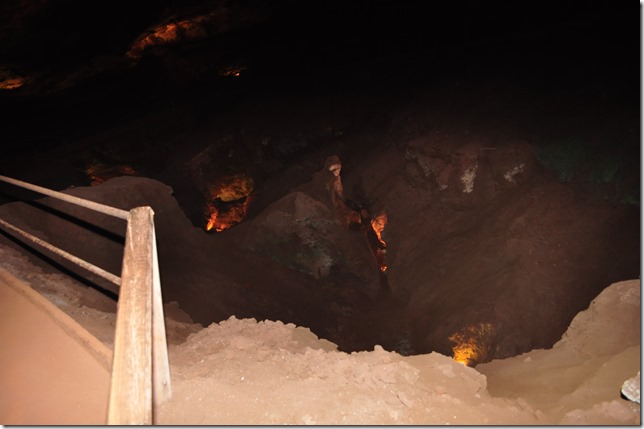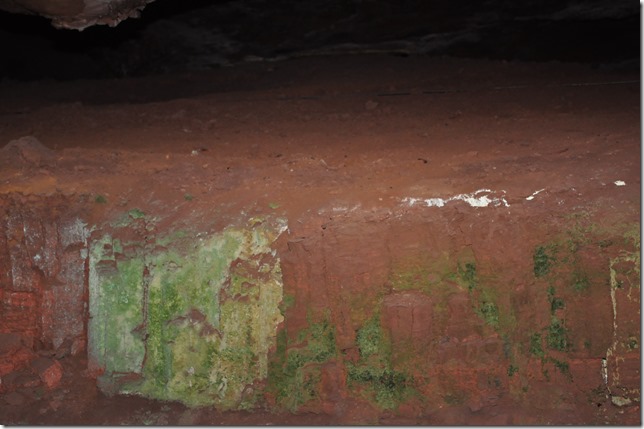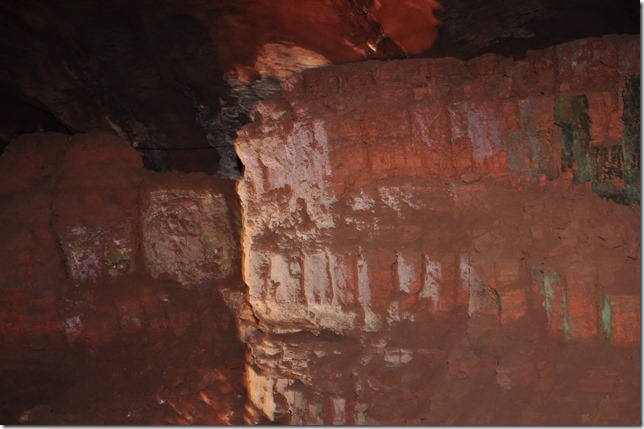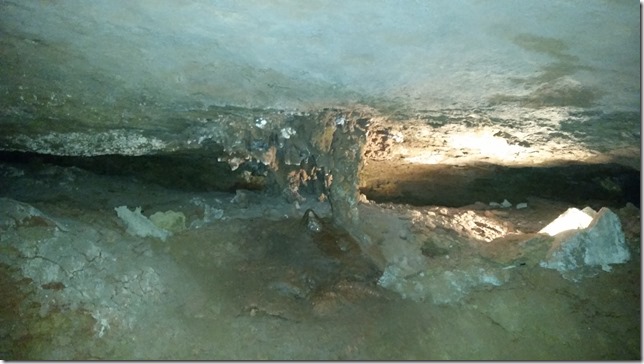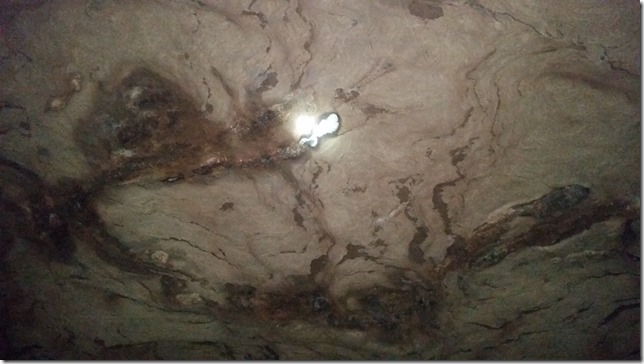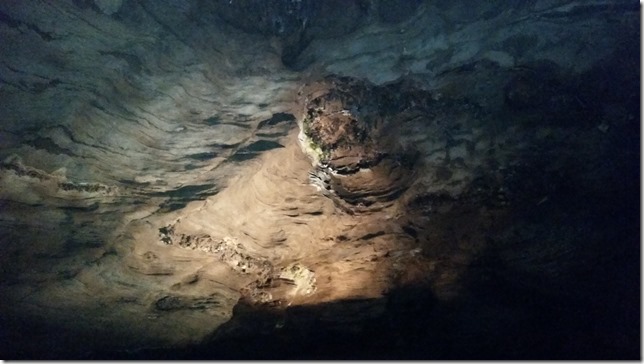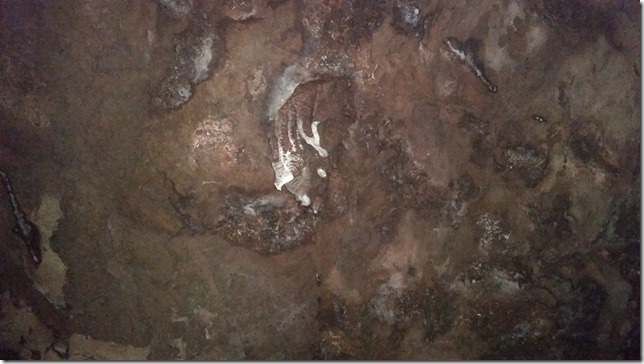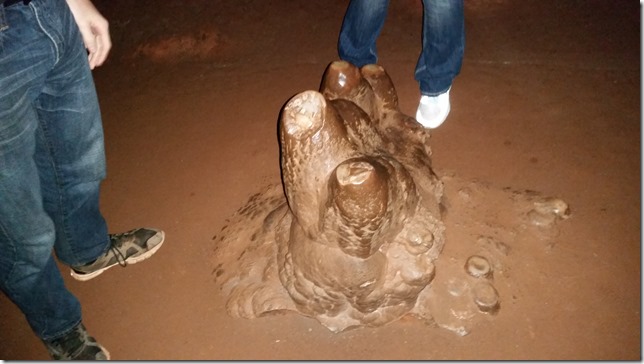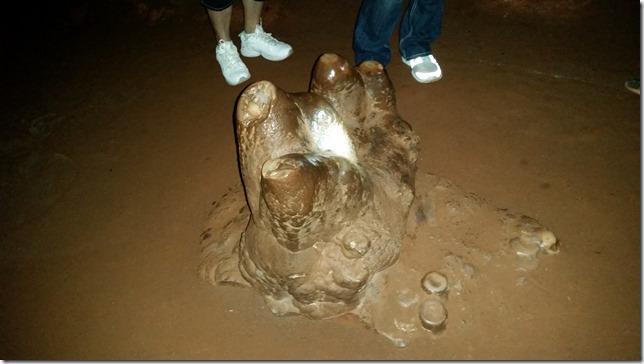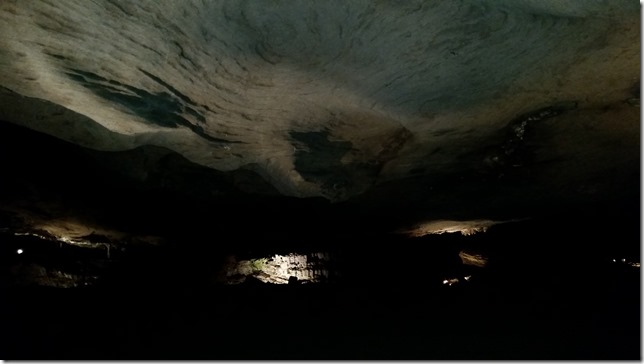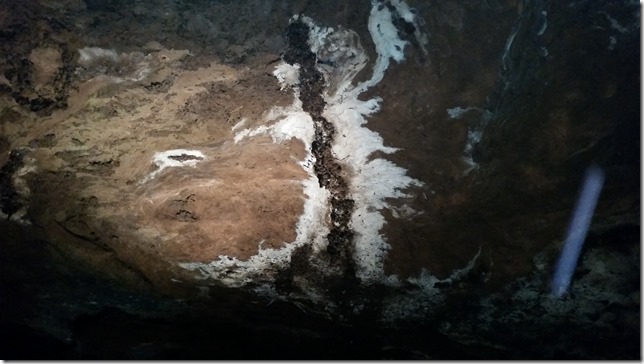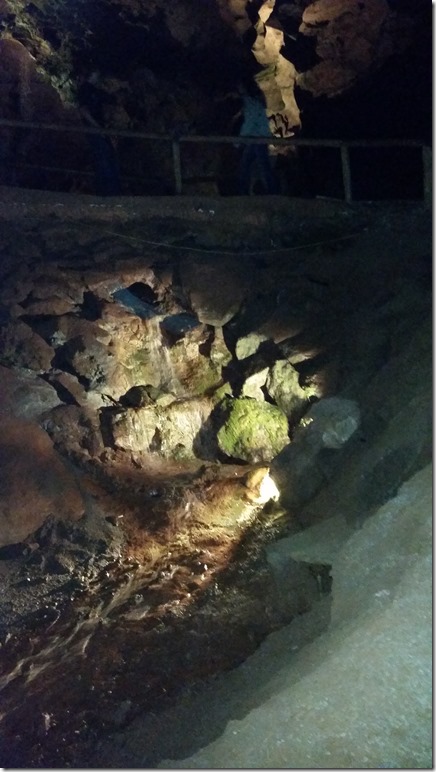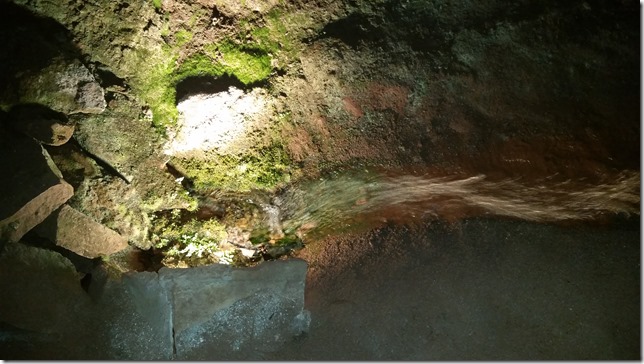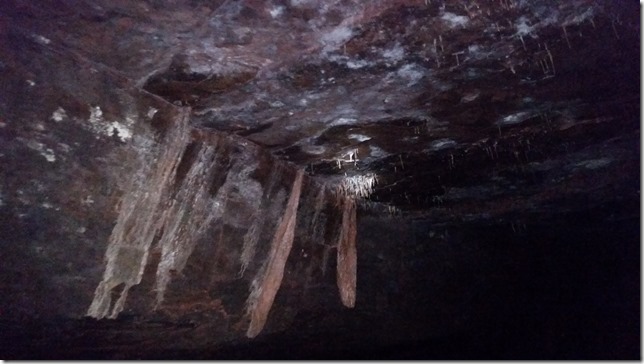 These days, it's a registered historic place and they give guided tours multiple times a day. The culmination of the tour is a ride in a glass-bottomed boat through the underground lake, which is fully stocked with rainbow trout.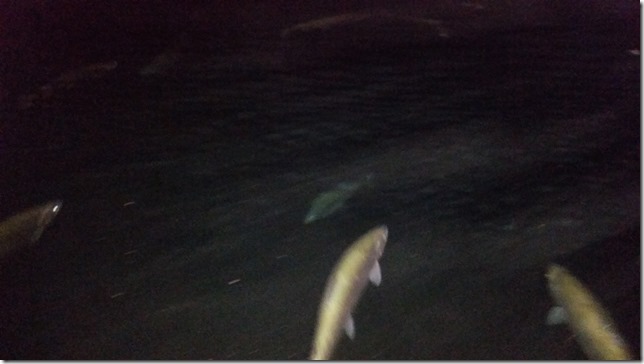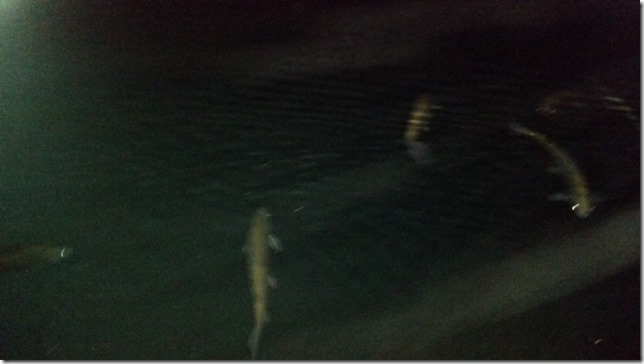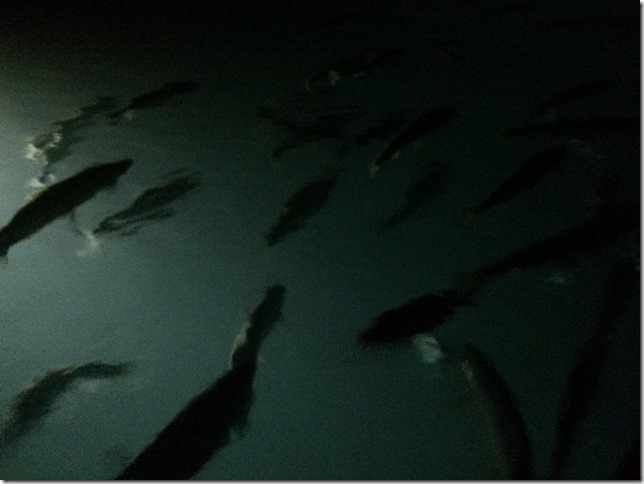 Overall, I'd say the tour is a bit pricy for what it is. It cost us $42 for about an hour of entertainment, but its interesting if you like caves or geology. We finished that tour at about 8 PM and headed to Chattanooga to eat supper and bed down for the night.
For dinner, we stopped at the Public House, which is a surprisingly upscale restaurant in equally surprisingly beautiful downtown Chattanooga. Here, I stepped a good bit out of my comfort zone and had a lot of firsts. We started with a pork belly appetizer, which was actually the tastiest thing we ate, though I'm sure it was about 90% fat.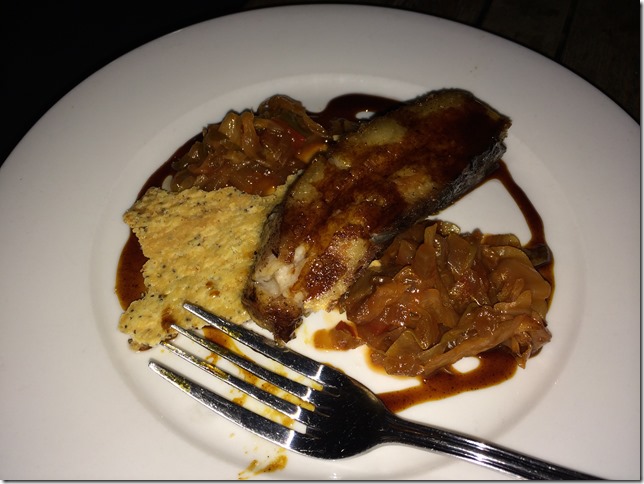 After that, Beth had the trout and squash casserole, while I had the duck comfit and grits. We both shared a side of fried okra with the meal.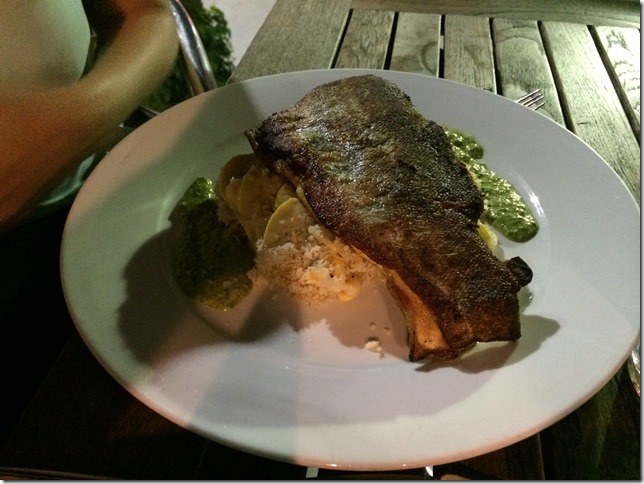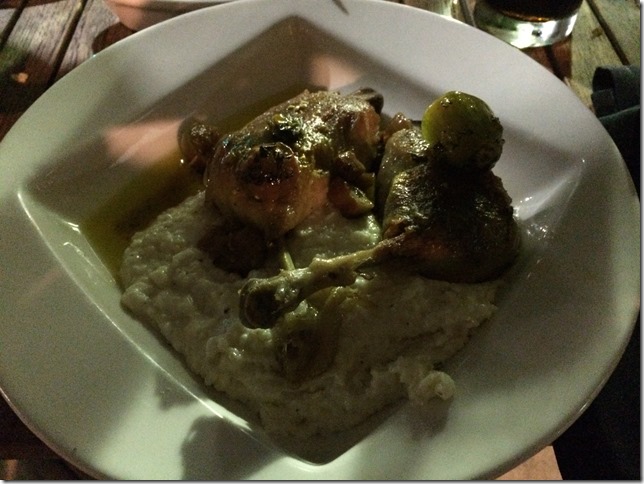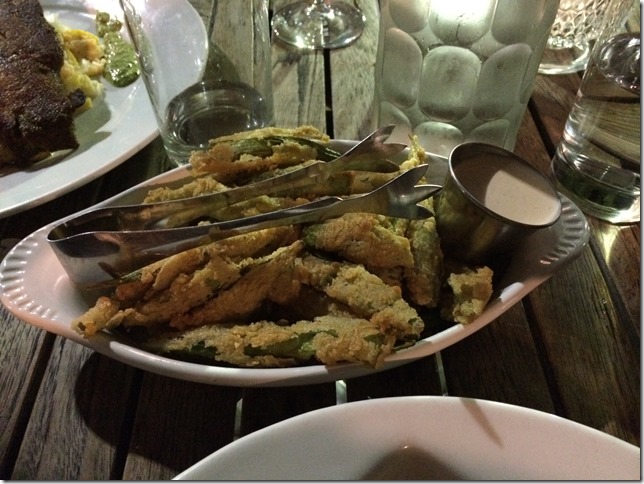 The trout and duck were decent, though fairly bland. This was my first taste of duck, and so far, I'd say it's more or less identical to chicken. Beth couldn't stop raving about the squash casserole, however, and I loved the grits, which were very creamy and rich. We both also really enjoyed the okra, though it was pretty much normal tasting for decent fried okra.
After the meal, Beth and I 'shared' three deserts: The Jack Daniel's Chocolate Cheesecake, a Peanut Butter Pie, and a Banana Pudding with Chocolate Chip Cookies. The deserts were all good, but Beth preferred the  cheesecake (which was mostly dark chocolate), and I preferred everything else, so that's mostly how we ate them.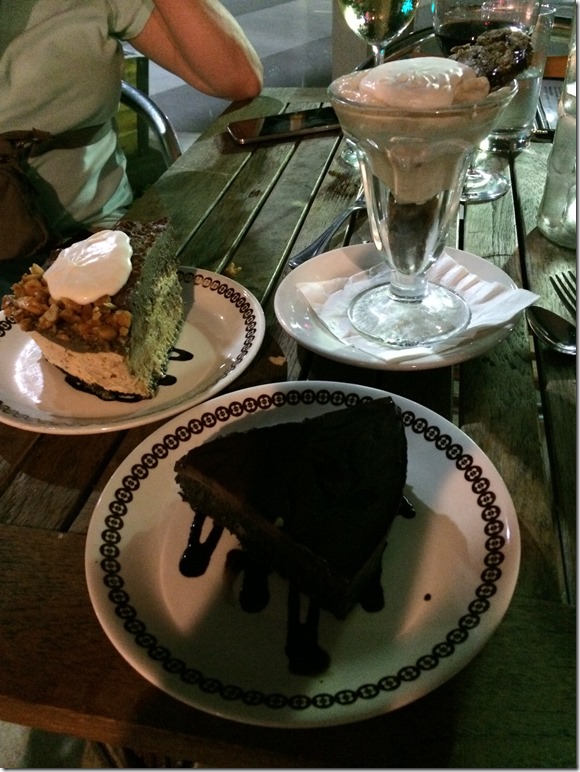 As I finish typing this up, it's closing on 3 AM, so we finished up much later than I hoped for, but we did cover the expected distance, and I hope to improve on this some tomorrow.